Implants are artificial tooth roots that are biocompatible with the body, which are placed in the mouth to restore the function and aesthetics of missing teeth or teeth. These titanium screws allow the removal of missing teeth without damaging the patient's own teeth.
Before Antalya implant is made, gingival health and bone structure in the missing tooth area are checked by radiological and clinical examination. Making an implant is not much more difficult than other dental treatments.
The application area is anesthetized under local anesthesia and the surgical operation is completed without the patient feeling any pain. In order to achieve long-term success, it is very important to protect the health of the gums from the beginning of the operation.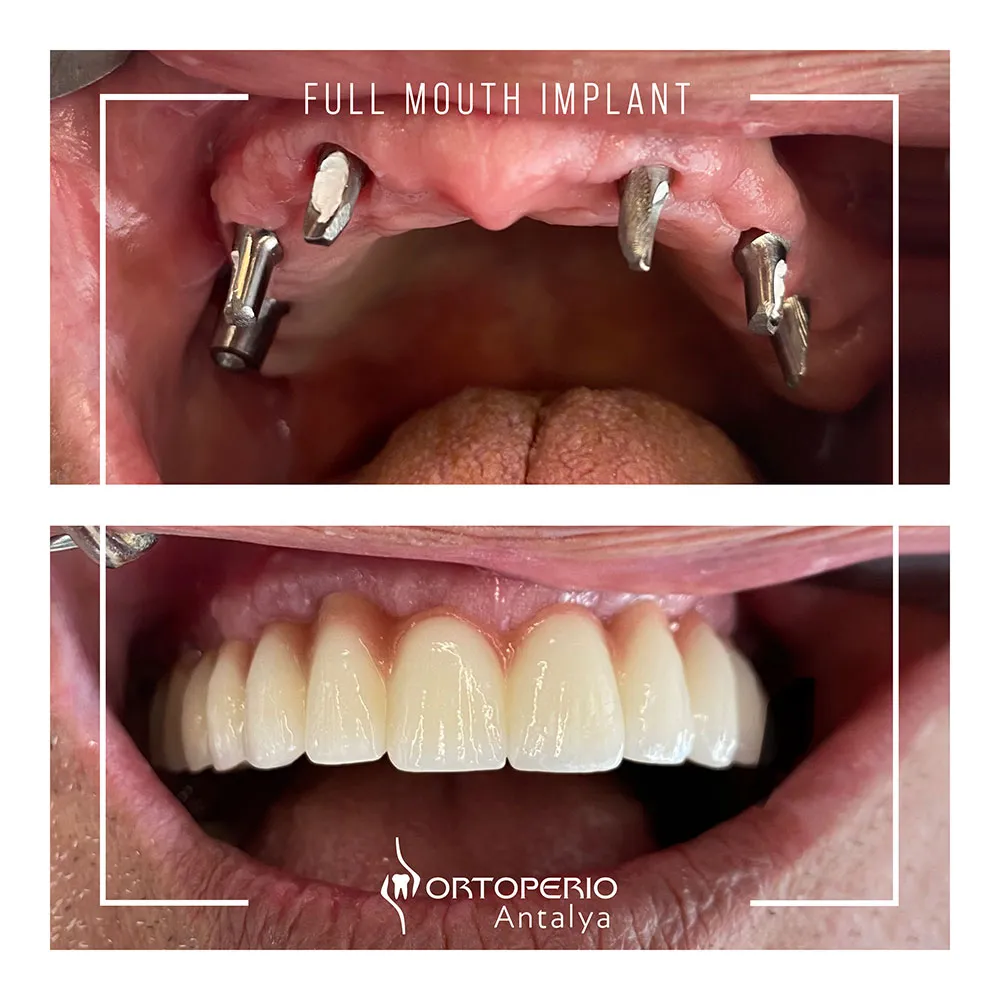 The patient should pay great attention to general oral and dental care, and should not smoke, especially immediately after the operation, as it will increase the risk of infection and delay healing. One of the most important factors affecting the success of implant treatment is the bone quality. The bone must be wide and high enough to allow proper implant placement.
In cases where there is not enough bone for the implant, advanced surgical techniques can be applied to increase the bone volume. For this purpose, synthetic or organic bone powders can be planted, as well as autogenic bone grafts taken from the patient himself. ​
Antalya is also home to many foreign patients coming from abroad to have dental implants. The most important reason for this is that Antalya dental implants prices are more economical, especially when compared to Europe and America. Antalya dental implants is also the first choice of many foreign patients who want to have implants for reasons such as All on 4 and All on 6 solutions where the patients are not toothless at all and entering the recovery period with fixed temporary.
Patients coming from abroad can enjoy a nice holiday while they are being treated in our Antalya dental clinic, especially by taking advantage of dental tourism. You can contact us for price offer and details. You can have one-on-one video calls with our dentists.
Antalya implant prices also vary a lot in Antalya. The existence of many implant brands to be applied, the different pricing of different models of each brand, the necessity of using grafts or membranes cause serious changes in costs.

It is very important that the dentist who will apply the implant is well-trained and experienced. Antalya implant it is very important that patients who have decided to have implants do a good research and meet with the right doctor.
Request a Callback
Today Now!
We will make a single attempt to contact you from a witheld number, usually within 24 hours of your request.
Continuation of the article
In some cases, after a waiting period of 3-6 months, the implant is made with new bone formation, while in some cases the implants can be placed in the same session. Following the construction of the implant, its fusion with the bone is checked with monthly radiological and clinical controls. At the end of 3-6 months, upper prosthesis construction begins.
After dental implants is made, high attention should be paid to oral hygiene, regular tooth brushing and dentist checks should not be interrupted. If necessary, extra cleaning should be performed with the help of equipment such as mouthwash and dental floss. In cases where the implant is not well taken care of, bone and soft tissue inflammation around the implant, called perimplantitis, is seen and this may result in the loss of the implant.
Smoking and uncontrolled diabetes are very important in implant applications. Since bone formation and tissue healing will be slow in uncontrolled diabetics, it will be more appropriate to apply implants after the patient's diabetes is controlled by a doctor.


Antalya Dental Implant specializes in dental implants and has been providing quality implants to patients for more than 22 years. Ortoperio Antalya is well-known for their high-quality dental implants, which are important for the long-term health of their patients. The Antalya Dental Implant team consists of implantologists, dentists, laboratory technicians, and other professionals who work together on a daily basis to provide top-quality services to their patients. Antalya Dental Implant has been providing dental implant solutions to patients in Turkey. We offer a wide range of high-quality products with competitive prices that are suitable for any type of patient.